Well, I think I've crossed the line from translator/collector into stupid collecting idiot that sometimes finds time to translate.
A package arrived for me today, flown all the way from Messe-sanoh's doujin shop in Japan. It was a light little thing, a hair over 1kg, that cost just over $100 to get to my door in total.
Inside, it was really boring, only one item, cloned 10 times. Yup, it's the shop version of the Narcissu Side Story novels that had been created for Comike 73 at the end of 2007.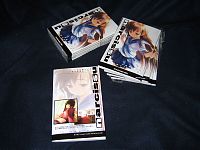 I had to order these in something of a rush, since Melonbooks went from having them in stock, to out of stock, in 24 hours. Messe-sanoh was slightly more forgiving, and Tora no ana had them come in at a slightly later date. By now they're probably on the way to selling out everywhere…
Also, I'm not keeping all 10 volumes. A few are going to various friends who wanted copies, but I'd imagine I'll have a few spares left over. I'll have to see exactly what I want to do with them in the future.
The shop versions are slightly different than the Comike versions, in that the paper weight is supposed to be slightly heavier, and there's some typo corrections. Overall, they're really thin, only 78 pages long, and the size of a book of manga (as you can see in the comparison shot below).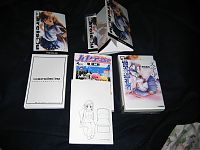 Inside, the first pages contain the short story pieces from the Visual Fan Book, that show very brief scenes of Himeko after the story of Narcissu Side 2nd ends. The book then continues on from that point on, with Yuka being the central character of the story as we watch the final days of Himeko.
When I got the books this morning, I was planning on reading them on the subway to work, but only managed to get halfway in before I reached my stop. Just as well, since as the story starts pulling at you soon after, and it probably would've been bad reading that in public. It's not in that "ahhh what tragedy!" sense, but more in an "ahh, now that's friendship and kindness" kind of way.
At the moment, I don't think I'll be translating this novel. Kataoka has previously expressed doubts about offering something that's been put on sale out for free. People did pay for an item, thinking it was only available then at the time, and then afterwards he goes around and releases said item for free? So, they didn't Need to have spent the money that they did? Well, that doesn't sit well with him, and I can't really disagree too much.
Who knows, I might be able to talk to him into some kind of accommodation down the line, but for now, it's not on the agenda because I'm busy.
---
As I finish writing this, I shall duck my head down again for awhile. Narcissu Side Second work is progressing steadily, there's a few kinks that must be ironed out before we proceed from the stage we're at. But I can say there's not too many stages left in the grand scheme of things; when the last major hurdles are cleared, the rest should topple in rapid succession.
All sorts of unexpected delays had cropped up in the project since we've started, a lot having to do with the fact that we're both now working full time, with jobs that have unpredictable rush-to-meet-deadline moments. (Ugh, 2 weeks before another substantial deliverable is due…)