Concerts
The only other thing I did at AX besides exhibitor's hall and one panel is go to concerts. The May'n and Nakajima concert with surprise guest Yoko Kanno was extremely fun. The #denpa crew passed out a box of glowsticks to people in seats near us, probably over 50 sticks, and so our section front and center was really colorful as we danced and cheered during the concert.
Then there was the MELL concert, which was just amazing. As expected some of her newer anime songs, Red Faction, Virgins High, etc. but the best part was when she sung some of her older classic songs from years ago. Our group really got excited hearing songs that we've been listening to on CD for years.
Amusing bit: as the concert started, the screens had one some video stuff, and ended with the I've logo. #denpa as a group cheered at that, but almost no one else. I guess most people just don't know of I've in the way us erogamer people do.
RedAlice at Club Nokia, brought in by www.mydjsobad.com was a special treat. It was awesome hearing RedAlice play his Touhou mixes in a live club with dancing. It was great how the whole pit was dancing along to tracks we'd never hear in public otherwise.
Finally, there were Mangagamer live concerts. This year there were 2 a day for 3 days, and each were about 1:30 long. It as the first time that Minami Kuribayashi came to the US, and was a great opportunity to see her perform Rumbling Hearts, Precious Memories, and a bunch of anime OPs. Ur@n essentially had a charged rock concert with Kirakira, Travelers and lots of Overdrive songs. CooRie/rino surprisingly sung Sentimental from Midori no Hibi, as well as some Da Capo songs. She also sang a duet version of Sakura Saku Koi Yume with Aina Kase. Finally, Aina Kase had Growing, and some songs borrowed from Cy-Rim Revolution, like Koi wa Royal Straight Flush.
#Denpa went to almost each of those concerts and we'd be in front doing full wotagei complete with the dancing and glowsticks. We do it because the singers always seem very happy to have people who are involved and cheering them on. If they didn't like it, they wouldn't encourage us by making hand gestures to signal what moves we should be doing at different parts of the song. If anything, without us, the entire audience would just be filled with people taking pictures and
video on their phones. Don't you think, as a performer, that'd be a sad sight?
While we're having fun with the live music, oftentimes some Momoi-ists will join in with their own glowsticks. If we're lucky, other people will join in with just their hands. Enthusiasm is infectious stuff. At the end of the day, almost as many cameras are pointed at us dancing as there are cameras pointed at the singing artists.
BTW, doing wotagei can be exhausting. Your arms get tired from moving quickly, you're sweaty from all the jumping and movement, your throat gets strained if you shout too much, etc. So our group almost died on Friday with a 4-concert marathon with May'n -> Mangagamer -> Mell -> RedAlice. My phone's pedometer registered that I made over 22k steps that day.
Goods win
The best part about the Mangagamer booth is that there's all sorts of goodies to buy that can be very difficult to get, even with Japanese competency and friends in the country who can have things shipped to them.
This year, I managed to make friends with people from the Hobibox team, who were selling the English versions of Higurashi, as well as Umineko and random CDs that I've never heard of. I gave them about 40 Narcissu 2 English CDs to give away at their booth because Narcissu PSP had just launched through their parent company Kadokawa-Hobi and they knew Kataoka also. Luckily, someone there knew what was going on and so we became friends.
Then I bought a rather ridiculous number of CDs and had most autographed, Minami's latest CD autographed for a friend, Ur@n's CD autographed, Cy-rim revolution's CD that I couldn't buy last year, and an IOSYS CD through Hen Da Ne.
However, the best thing I got this year was at the Age booth. They had two artists doing color shikishi for $60 ($30 for black/white only). On the first day, I got myself a drawing of Sumika since that was my favorite character in Muvluv. The 3rd day, I found out that I could request any character from the Muvluv series, including Total Eclipse! I had seen a a Yui in combat suit and even a Chiduru being drawn. After a bit of wondering which of the huge cast to pick, I went ahead
and asked for a Total Eclipse Yui.
When I came to pick up my Yui, some guy from the booth out front rearranging the shikishi shakes my hand with a smile and nod. Confused, I asked if he liked Yui also, and he says no, he wrote her scenario. Then he offered to sign my board, which I eagerly agreed in a stunned daze.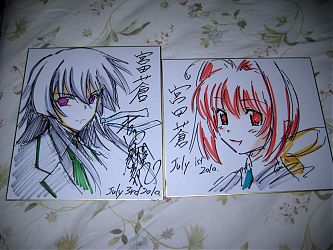 Much later, I realized that I had bumped into Yoshimune Kouki, a.k.a. Yoshida, the CEO of Age, and just gotten his autograph. I wish I had traded business cards with him then, or asked him about his cars (the famous Muvluv Itasha Lamborghini Gallardo and Lancia Stratos). I never managed to get a chance to talk to him again and it's regretful. Oh well, someday, somewhere!
Finally, next up. "The epic dinner."