It's happened again, I walked into a book store, browsed amazon.co.jp's recommendation list, browsed through some of mixi's light novel communities…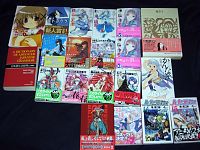 This is the combined purchasing over the course of 3 weeks. One big order from my favorite online bookstore BK1. They offer SAL economy air shipping (1000 yen per 1kg + 80yen! to the US! Awesome!), and it took a little over 2 weeks to get to NYC this time. Around holiday season it took something like 4 weeks.
The only problem with bk1 is that their stocking policy is much thinner than Amazon's so oftentimes some things will fall out of stock for awhile and things get dropped from my order… Items that are marked 'will ship in 1-3 days" seems to be fine though. Watch out for the 1-3 weeks option however… A number of my bungaku shoujo books fell off the list because of this.
This month's spoils are:
Hidamari Sketch vol. 1
Bungaku Shoujo #7, (plus extra copies because I bang up my books too much carrying them around on the train and love the series enough to want a pristine set)
Hitokakera
Tabi wo deyou, horobiyuku sekai no hate made
Tasogare no Uta-tsukai series, #2-#5 (I ordered #6, it's still in a box, all alone on a plane.)
Kiiri #1
Kamisama de geemu (which I bought somewhat by mistake at Kinokuniya, not noticing the 'de' and thinking it was the first book of the series 'Kamisama geemu')
Full metal panic #10 – Semaru nick of time
Hayate no Gotoku manga #14, #15
Erementar Gerad #14
Of course, I can't wait to read through Bungaku shoujo #7. I've already gushed about the series somewhat earlier so I don't need to repeat here. I can't wait for the next installment. Plus I've heard that the short stories that used to be on FB Enterbrain's web site are getting properly bound! Wooo!
Hitokareka and Tabi wo deyou were both 1 volume books that amazon recommended, and the summaries and reviews looked good. I'll have to see what they're about.
The Tasogare no uta-tsukai series is one where I bought the first book last time on recommendation, and loved how the story somehow just sorta sucked me in. So now I'm hoping for a repeat performance in the coming volumes. If I'm happy with the series I'll write about it when I find time.
Full metal panic 10… is finally heading towards the grand climax of the story! Hopefully by next book, everything will fall into place. I just hope it comes out by September!
Kiiri #1 is another test purchase. There's a number of books in the series and it looked promising, so dipping my toe in here. Same idea with Kamisama de geemu… 'cept I need to read titles more closely when I impulse buy.
Finally, two large purchases.
Dictionary of Advanced Japanese which I covered already.
Makura no Soushi, a.k.a. "The pillow book", Volumne 18 of Shogakukan's Nippon koten bungaku zenshuu, a large collection of historic Japanese works. The collection is used in academia, so it's not like the cheap $10 paperback translations you can find easily. This one has the original text, footnotes about the text above it, then a modern Japanese translation on the bottom.
A year ago, I got exposed briefly to a few pages in the History of the Japanese Language class I sat in on at Cornell, and it just struck me as a book I had to work through on my own. So after waiting around, I finally went and bought it.
Finally, next time's book purchase will be decided by 1 timing factor. Whenever Shakugan no Shana vol 17 becomes published is when I'll order my next stack of books. I have no idea what's delaying the printing, but unless the book is unnaturally long, going by the release timing of the earlier volumes, it's already overdue… something's going on here!