Okay, this has been in the works since 2008.
As you might be aware of, the original releases of Narcissu Side 2nd have long sold out (having been replaced by Narcissu Die Dritte Welt and soon the PSP version). Inside the case were 2 CDs, a game disc, and an OST with most (not all) of the music from Narcissu 1 and 2.
I am happy to announce that with a little bit of help from Tomo Kataoka, the original creator. I had secured a box of the original discs a few years ago, and now I have 30 discs of them to give away for free.
Yes, that's right. 30 copies of the original game, still sealed in the original plastic to give away.
The prizes
You think I'm screwing with you and this is one big April fool? Well here they are: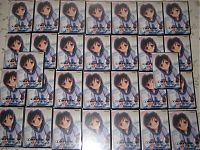 In addition, as part of my personal celebration for this project coming to an end, the winners will get a burned copy of the game. There's no extra material on them or anything, just a little commemorative thing.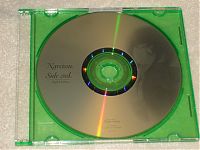 I also might have extra copies of the mini novel, visual fan book, etc. So someone lucky might get some bonus stuff.
Eligibility
Limit 1 entry per person.
I'll throw out any duplicates anyways, so don't waste my time making me hunt for them. If it gets annoying I'll just delete all the clones and not leave one.
In general anyone that I can mail things to will be fine. This means I'll prefer the US, but am not opposed to sending things overseas provided that I only have to fill out 1 small standard customs form.
If it's someplace that will get my name on a Department of Homeland Security list somewhere, sorry.
Cost
To the winners and everyone else, $0. Nothing. Nada.
I thought about taking donations to cover all the shipping fees involved (30 dvd cases of 2cds each are HEAVY to ship international EMS from Japan by the way.) However, I don't want people complaining that I'm being bribed, so no donations.
I might open something after the contest is already decided, but not a second before.
Decision making
Okay so how will this be decided? Easy, I have a form, you put in your last name, your zip code (or country+street name for those without a zip) and your email.
On June 1 I'm going to take the entire list, throw out any obvious fraud, clean it up, then run it through a little script to pick randomly. Or throw darts, papers thrown at stairs, whatever. In the end, 30 winners will be decided.
My decisions are final. I can do what I want with them. If you don't like that, don't play. If prizes go unclaimed after a period of time of my choosing, I can award it to someone else. You waive any right to complain.
So where's the form?
I'm lazy, so I'm using a Google doc:
If you have ANY RESERVATIONS AT ALL about giving me your information and having it stored in a google doc, please don't. I've got enough to worry about handling this without worrying about data security and integrity.
If you're under 18, or are otherwise in a position where I can't legally send you things or have your information, please don't give me your information.
I promise not to use the information except for the purposes of this contest or something related to the Narcissu 2 release. I also won't reveal the data to 3rd parties. I'll try to keep the data safe and private, but it's a google doc, there's limits to that sort of thing.
By filling out the form you're agreeing not to sue me for any reason. =P
The form was here