It'll soon be July, and that means that I suddenly realize I've gone 180 days without taking a single day of vacation, again. (Yes I'm a workaholic). This means that once again I'll be booking some actual paid time off, flying over to LA, and going to Anime Expo.
This year
Very much like last year (see below) I'll be spending the vast majority of my time in the dealer's room, either at the Hen Da Ne booth helping sell games, or at the Mangagamer booth, hopefully talking to artists and such. Occasionally, you may find me hanging around the JAST booth, probably talking to Shingo.
If anyone wants to say hi to me, let me know via twitter or email long before hand, and I can put something on a calendar… Hell if there's a few people we can just go somewhere and sit down for a chat in the shade.
This year, there'll should be another "Epic Dinner" but on a smaller scale. Fewer guests, but another dinner with bamboo and Tororo would be great. The biggest problem is actually logistics, of getting people to and from the restaurant. Hopefully, I'll make some more friends amongst some of the newer companies this year.
Also on my plate will be lots of photography. Need to put my relatively new camera to good use =3. I'll be photographing lots during concerts, some for Miku, but especially excited to be able to shoot the Kalafina concert. I don't normally take photos of cosplay, but lacking anything better to do I might give that a try.
Then there's also the visual novel related panels that I'll be helping cover for encubed largely in a photographic capacity, but we'll see. This includes the Mangagamer panel, and the JAST panel.
Sadly, I didn't get a chance to order another set of Narcissu 2 English Edition discs be made, so I won't have anything to give out to random people in the dealer's room. I might have a few copies lurking around on a shelf that I'll bring if I can.
Last year
I spent much of it hanging around the Hen da ne Booth, often standing behind the counter selling games or talking to people.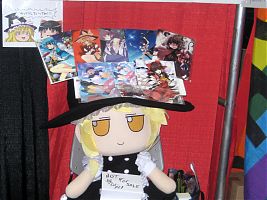 Aside from that, I spent a ton of time at the Mangagamer booth, taking pictures and enjoying the many concerts they would hold.
For example, UR@N, now known as AiRi



and Minami Kuribayashi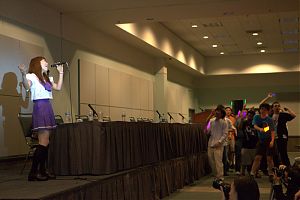 This year, I hear that there won't be any seiyuu/singers coming with the Mangagamer team, so there'll be much less wotagei in my time at AX. (I hear there'll be many artists though, so I need to bring extra cash to get shikishi drawn for me.)
On top of that we had the "Epic Dinner" where a bunch of the #denpa group went to korean BBQ with a bunch of the Tororo, bamboo, the Circus staff, and some people from Flat.