The human ability to find patterns in things where they don't exist is truly amazing. For instance, take my latest treasure, a typical telephone card… except it has now traveled well over 21,000 miles, and has convinced a number of people that it is cursed. Join me in a lighthearted tale of chaos and shared travel woe.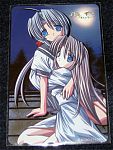 This is the item in question, one of the original telephone cards that came with pre-orders of Nekonekosoft's Gin'iro way back in 2000. I've always had a special fondness for the game, especially the first chapter's heroine, which is one of the featured characters here, so I decided to buy it off auction.
For reasons of proxy fees and shipping, I just asked my friend in Australia to order it since he was shipping a huge Wreathlit plushie soon anyways, a card that can easily be mailed in a simple flat envelope later wouldn't cost much extra anyways. Little did we expect that the card could disappear from the box on the way to aussieland… The shipper swore they packed it in a giant wad of wrapping paper to make it obvious, but somehow it didn't make it… ah well, we got a refund so aside from the disappointment, no worries.
So now starts the true journey.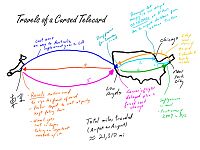 About half a year later, some idle browsing of auctions saw another copy of the card for sale at the same price. Since it disappeared without a trace last time, I had already started calling it "the Cursed Card". This time, instead of going to Australia, it went to LA, piggybacking off another friend's order. It arrived safely, so we all thought the curse was broken.
The next step was to get it mailed to me. Except… through a bit of procrastination, and who knows what else… the card is lost yet again. For something like three months, it was buried among the things in the room of my friend. The curse continues…
Finally, by luck, the card reappears hiding in a drawer somewhere, just in time for yet another friend from the Southern California area to visit the northeast. It changes hands, and travels with friend#2 across the country, taking a connection through Chicago's O'Hare.
There the curse strikes again. This time harder than ever. As friend#2 is waiting on the tarmac of ORD to take off to LGA, the airport shuts down temporarily due to severe thunderstorms. Thankfully, all it amounted to was a long delay, and no one was injured as far as I know.
Next it finally arrives in my hands, where it stays for something close to a year. In the meantime, the subprime loan crisis was in full swing, and I lose my position at the consulting firm I was working at thanks to all our contracts freezing. But that's just bad luck for everyone globally.
Then comes Comike 75. Since I already went to C74, and wasn't exactly rolling with income, I wasn't able to go, though I really wanted to. Not for the inevitable shopping, which I can do anyways, but because the Stage-nana off-meet was going to happen on the 3rd night, and Kataoka Tomo (leader of Nekonekosoft, author of Narci et al.) and Ayakawa Rino (the voice of Setsumi, Gin'iro chapter 1's heroine, et al.) we going to attend. I had met Kataoka back in the summer, and had a great time, so visiting again would've been fun. Not to mention meeting a Ayakawa would have been awesome.
But, instead, since I have friend#3 and friend #4 going, I got them to attend. While I was at it, I handed them some materials to show everyone there. One of them was a private alpha demo of Narcissu Side 2nd, English Edition. The other was the Cursed Telecard. While I was shipping the thing, I shipped a few C74 goods I owed them, and accidentally ship my own copy of one of the items over… Curses!
The card makes the trip once again over the Pacific to Japan and was stored in friend#3's notebook. He was warned that the card was a slippery relic of evil and disappearing, so he made sure it wouldn't go missing by putting it in his notebook. So, instead, the entire notebook, with some important notes (addresses, phone numbers for the trip etc.) went missing for a short while. Thankfully it was later found.
Then, comes the big day, Stage-Nana off-meet and the first private demo of a (somewhat buggy) alpha version of Narcissu Side 2nd English Edition in the world! Thankfully, the demo went well from what I hear. So yes, the first time any outsider ever saw a functioning demo of the game was in a smokey karaoke box in Ueno with a bunch of middle aged guys.
Then comes the chaos, friend#3 starts asking for autographs, and tells the story of the cursed card to everyone, and the story convinces both Kataoka and Ayakawa to sign the card. A marker is produced from somewhere, and they try to sign. Except, the ink isn't taking, just rubs right off the front… Everyone in the room goes… "it's the curse!" The back of the card seems to take ink though, so things worked out in the end.
While they were having fun, they had the big poster of Mizu no Marginal from Stage-nana's C75 booth, so they decided to tape it to the wall of the meeting place. No matter how many times they try, the poor thing keeps falling down after a few minutes. Clearly, the curse is at work again!
The off-meet ends, and now, on the journey home, friend#3 carries the card to the airport, only to find the flight is delayed mysteriously for an hour or so. Also, his seat's been changed, without his knowledge or approval. Great way to return home in the new year on a ~12 hour flight.
Finally, after reaching LA again, the card is stuffed into a padded envelope with a drama CD I wanted, and mailed back to me. It arrived in the afternoon, and guess what? That day marked the first snow of 2009 for New York City. Not a nasty blizzard, but enough to accumulate and bring out the salt and plow crews.
So to end this long tale of curses and trouble, I leave you with a picture of the back side of this magical item. Total miles traveled, calculating just airport to airport distances: 21,310 miles (+/- 400mi.).
What's the equatorial circumference of the earth? 24,901.5 miles.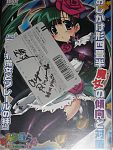 Aren't human pattern making skills amazing?