So, once a year, I slip out of translation mode and wander the streets of New York in search of chocolate. $28 at the door and (practically) all the samples of top tier and boutique chocolate that you can stand to eat from about 50ish vendors.
Instead of a hotel in midtown like last year, the show had moved west to Pier 94, where there's a bit more space for booths and crowds. This year certainly didn't feel as packed (though there were still plenty of people).
This year, I didn't pay as much attention as I did to the specific names of places like I did last time so I mostly referred to places as "the place where I got these truffles" or "the place with the 'Firecracker' bars" and so on.
This year I happily returned to a few of my favorites from last year, including Berkshire Bark's wonderful and item-loaded bars, Charles Chocolate's tea truffles (which sold out before I got there at 1pm!!!) and their turtles were great too, and Mary's Chocolates from Japan.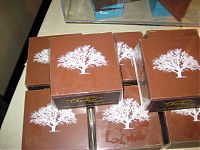 (Edible) box work from Charles Chocolates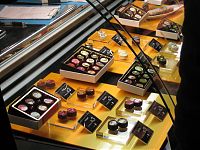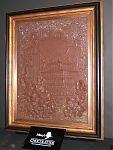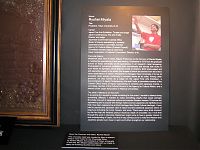 Mary's with their usual flower ganache truffles, as well as a gorgeous display piece this year.
Sadly, Mary's had fewer varieties of $6 ganaches compared to last year, with only green tea, black sesame, and sake available. Still, the crowds were thick as ever around their booth. I even got to chat with the chocolate chefs a bit in Japanese too, learning it takes 4 years to learn how to make the flower pieces they were demonstrating (I forgot to ask how much was just for the flowers and how much was working with chocolate in general).
http://www.neechin.net/images/73t.jpg!":http://www.neechin.net/images/73.jpg
Buddha molded chocolate
Oliver Kira had their Buddha chocolates again, this time there was much better lighting in the area so I could appreciate it more than last year. I still can't quite bring myself to buy one to eat though. While I'm not Buddhist myself, it's still the feeling like taking a bite of a chocolate Jesus or something, just odd.
Most marked novelty of the day has to be the Obama face. Of course it's not like they got an actual mold, so it's closer to an artist's rendition or a caricature, but it's definitely odd.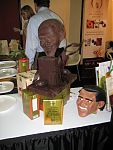 Finally, cuteness of the day wasn't exactly chocolate, but boxes that the chocolates came in… I can't for the life of me remember the name of the booth however…
Other places of notable mention was Chuao Chocolate, especially their "Firecracker" bar, which is dark chocolate, chipotle, salt, and popping candy… burns the tongue and is a surprising fiery kick for fun. There was also a Mayan gold bar there that had a very warm and cinnamony taste.
Afterwards, I crossed town and visited one of my favorite izakayas in NYC, Hagi, had a sake and then a souchuu over skewers with my friends, washed down the half pound (or more…) of chocolate I had consumed in the course of 4-5 hours, and called it a day. Whee!